Do note that this site uses affiliate links, meaning we might earn a small commission through links associated with Amazon, Fanatical, Humble Bundle, and more. Purchasing through our affiliate links just gives us more incentive to buy more games to review--with no additional cost on your end.
Get out-of-this-world games right now with Fanatical's new bundle!

We've traveled across the gaming galaxy to bring you an exclusive hand-picked roster of highly-rated indie games – introducing the Cosmic Mystery Bundle.

Perfect for avid PC gamers and those looking to boost their Steam library numbers, the Cosmic Mystery Bundle features best-selling, highly-rated games from just $1. Choose up to 10 games for just $4.99 and experience a fantastic array of indie titles from the best developers and publishers on the planet.

Interstellar games are waiting to be explored, get the Cosmic Mystery Bundle while stocks last!

Plus as part of your order, you will be sent a 10% discount coupon to use on your next games bundle from Fanatical.*
I hesitated on this one. Cosmic is a sci-fi term and me and sci-fi games don't typically get along. It's not that they're bad. I'm sure there are tons that are super good.
It's just I can't handle aliens and outer space and life beyond what we know.
While I planned to actually buy more than one of these bundles, I'm going to go ahead and buy just this one and we'll see what games lie within.
Edit: Very happy with the results of this bundle. Was not expecting some of the games I acquired, for sure.
[signoff predefined="Affiliate"][/signoff]
She's back! Paranautical Activity combines the classic FPS action of games like Doom and Quake, with the randomness and difficulty of modern roguelikes like Binding of Isaac and Spelunky.
Never played Binding of Isaac, but I've heard of it, and I've seen a small smidge of gameplay. Never played Spelunky or seen gameplay of it, so I don't really know about those two all that much.
However, I do remember my childhood days of playing Doom and Quake, though I think my brother played Quake more often than I did. Those weren't really my specialty when it came to gaming back then.
With that being said, combining those games seems intriguing to me. But the blocky textures remind me of Minecraft these days and it makes me kind of cringe.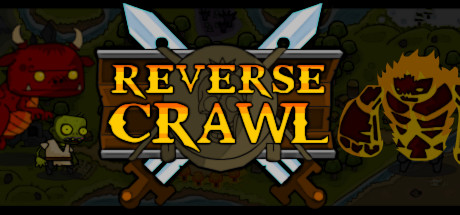 A dungeon crawl where YOU are the monsters! Lead your minions in tactical turn-based combat against the pesky heroes, and unlock a variety of evil Powers. With a dynamic campaign system and a branching storyline, "Reverse Crawl" lets you experience an RPG from a whole new angle!
What's funny is, with looking at some of the screenshots, I'm reminded of South Park's The Stick of Truth battle system, but also the simple game of…Letter Quest, maybe?
I'm actually not sure if that's what I'm thinking of, but I've seen other games revolving around the basis of this type of battling, graphics-wise.
The idea of actually playing as the monster is an intriguing one, I'll have to admit. There needs to be more games like that out there, damnit.
Coffin Dodgers sees you take on the role of saving one of seven quirky retirement village residents, each racing for their soul in "pimped up" mobility scooters against none other than the Grim Reaper himself. Our old heroes are armed with a variety of homemade weapons and gadgets to take on anything the Grim Reaper and his Zombie army may throw at them. Can you survive the retirement village?
Old people racing against Death and his minions in order to save their souls?
Holy crap, this takes me back to…Crash Bandicoot, maybe? There was a game that had racing in it, that me and my cousin played all the time when we were younger, but I can't remember which game it was. We'd pass someone up and be like, "Later, Grandma! See ya, Pops!" and so on with each person.
This actually reminds me of those fun times.
I still really like Crazy Taxi though, as far as driving games go.
On the deadly peninsula of Chult, an adventuring party must fight their way through dangerous jungles, labyrinths and dungeons to find and reverse the cause of the death curse. Choose to play as one or more of the four adventurers (Artus Cimber, Asharra, Birdsong, and Dragonbait) to face many perilous challenges and deadly foes throughout the quest.
I've never played the D&D board games before, so I don't know much about it. The only D&D game I've played is Dungeons and Dragons Online, and I actually quite liked that game. Obviously this game is quite a bit different from that MMO, though.
Still, it's not that I don't like D&D, so I do plan on giving this game a go. I believe that it was even on my wishlist for some time.
It's time for Cally to do what she does best: rescuing her kidnapped parents!

Set before the events of Cally's Caves 3, Cally's Trials is a roguelike action-platformer with a weapon-levelling system that lets you evolve weapons as you use them. Cally must save her parents from the maniacal Herbert, who has laid waste to the Caves and built a massive lair deep inside.
Can't say I've ever heard of this game before, so I'm kind of happy it's set before certain events in another game further ahead. And while the graphics look simplistic, it reminds me of the old-school games on the SNES in a way, which I adored way back when.
Can't say I much adore them now.
They're a pain in the ass.
End the world with your tongue and boulders! The King swings a boulder back and forth with his tongue and YOU ARE responsible for releasing it! Time the release accurately and crush as many targets as possible with each boulder. Simple but mouth-watering addictive! Master the game by anticipating how boulders roll, bounce, and launch from explosions. Take advantage of collapsing structures too! Conquer the world in more than 120 awkwardly fun and crunchy levels!
I…have no words.
For a moment, looking at the screenshots of the the King and the things he carries on his tongue, I'm reminded of freaking chain chomps in Super Mario. Doesn't look the same, of course, but…damn this Cosmic Mystery Bundle makes me reminisce.
Odd games these days. Odd games, indeed.
The grim reapers Grimm and Rose need your help to defeat a legion of monsters, ghosts, and evil bunnies using the power of words!

Spell words to battle monsters, earn gems and use them to purchase upgrades, books, special items, potions, and much more! Letter Quest is a game about using your linguistic skills to survive. It's a turn-based RPG featuring high-res artwork, clever wordplay, and a great soundtrack.
I have both the original and the remastered version of this game, and, while I haven't gotten too far into the game itself, I've really enjoyed it.
Must be the writer in me, though I haven't written anything in years. I've always liked word games. This one is definitely up there in word games and in-game rewards you can obtain.
Plus, Grimm Reaper, hello?
A long time ago five enchanted keys were created. The keys were scattered around the lands, and they still remain undiscovered. Many have come to find them, and so far all have failed. Will you find the keys and unlock the secrets, or will you join the endless ranks of souls forever trapped within these lands?

Sparkle 2 is the long-awaited sequel to the award-winning hit game Sparkle enjoyed by millions of players since 2007. Sparkle 2 is an independent sequel and a spiritual successor to the first installment suitable for both new and existing fans of the series.
Don't freak out; it's not about vampires.
Never have I heard of this game before, though apparently its first game was quite popular in its earlier years. I can't say I've ever played anything too much like this, but watching the trailer, it seems like it'd be something like on of the iphone, android, or ipad games, where you knock the grouped colors out until you have none, except this one is timed.
Interesting… Not high on my list but I'm intrigued. It's probably a game to fill the time of waiting on something for me.
There is nothing Joe wouldn't do for his wife. But as they try to save their marriage with a romantic getaway, things go from bad to worse, and from worse… to insanity.

In this tale of love, madness and murder – Joe will prove what kind of man he is. But what kind of man is he exactly? A loving husband? A cold realist? A bitter skeptic? That is something YOU will decide, as you join him on his journey for redemption…
Now here's a game more my style.
Who doesn't like dealing with insanity and downfalls, right?
But more than that, it fits into a darker style of point and click games, and I love me some pointing and clicking, and getting nowhere with it because I'm lost and don't know what to do.
Maybe that won't be the case with this game. Either way, very happy with this purchase.
Orborun is a 3D action skill run & roll game!

Control your Orbot to collect the goods, avoid the obstacles and escape the hazardous Orbo-world. Complete levels on perfect run to get more bonus. More than 100 levels, local co-op multiplayer, feeling of speed and adrenaline, twisted levels in haste/puzzle and hazard shaped different worlds and cool Orbot skins makes this game fun to play for ages!
All right, here we go. I knew there'd be at least one game that wouldn't do it for me, and here we have it.
Completely my opinion, of course, but…there's just something about the robots that puts me off, just like aliens. Like, Portal games look fun, but I'd rather watch others play them than do it myself. This looks like one of those games to me.
I dunno. We'll see.